Cases From Around the Country
Author: Anne L. Perry, Esq..
Source: Volume 07, Number 06, August/September 2002 , pp.85-86(2)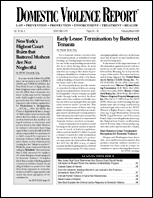 < previous article |next article > |return to table of contents
Abstract:
This column discusses recent court cases of interest to readers of DVR, including: Matsuk v. I.N.S., 247 F.3d 999 (9th Cir.2001); Zavaleta-Gallegos v. I.N.S., 261 F.3d 951 (9th Cir. 2001); Ex Parte H.H., 2002 WL 227956 (Ala. 2002); Hamilton v. Ali, 2001 WL 1853978 (N.J. Super. Ct. Ch. Div. 2002); State v. Garnica, 20 P.3d 1069 (Wash. Ct. App. 2001).
Keywords: Anatoly Matsuk; Jose Zavaleta-Gallegos; Father Granted Custody Instead of Lesbian Mother Despite Allegations of Domestic Violence Toward Children; College Dormitory Suite-Mate Is a "Victim" for Purposes of Domestic Violence Restraining Order; Min

Affiliations: 1: Associate Editor of DVR.