Law Review Articles on Lesbian and Gay Domestic Violence
Author: Nancy K. D. Lemon, J.D..
Source: Volume 07, Number 06, August/September 2002 , pp.83-84(2)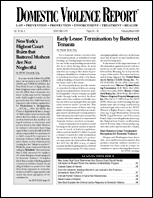 < previous article |next article > |return to table of contents
Abstract:
This column reviews recent articles as indicated in the header: "Same Sex Domestic Violence: Claiming a Domestic Sphere While Risking Negative Stererotypes [sic]", by Nancy J. Knauer; "Trouble in Paradise: Barriers to Addressing Domestic Violence in Lesbian Relationships", by Krisana Hodges; "Reconsidering the Abuse That Dare Not Speak Its Name: A Criticism of Recent Legal Scholarship Regarding Same-Gender Domestic Violence", by Ryiah Lilith.
Keywords: National Coalition of Anti-Violence Programs

Affiliations: 1: Associate Editor of DVR.