Health Watch
Author: Joan Zorza, Esq..
Source: Volume 07, Number 06, August/September 2002 , pp.87-89(3)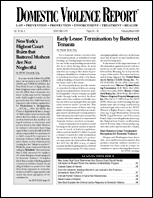 < previous article |next article > |return to table of contents
Abstract:
The June 2000 issue of the journal, Violence Against Women, is devoted to the proceedings and follow-up from the Family Violence Prevention Fund's October 2000 medical conference. The first two articles summarize the plenary sessions of the first and second days, the next two report on research, and the final article discusses the family violence course taught at a school of public health. Some of the newer ideas that emerge from the issue are discussed here.
Keywords: Elaine Alpert; Arnold Milstein; Jacqueline Campbell; Emily Pitt; Sujata Warrier; Alicia Lieberman; Massachusetts General Hospital in Boston; Helping Abuse and Violence End Now; H. A. V. E. N.; Boston University School of Public Health

Affiliations: 1: Editor, Domestic Violence Report.