Stalking Case Summaries: Orders of Protection
Author: Annie L. Perry.
Source: Volume 22, Number 06, August/September 2017 , pp.101-101(1)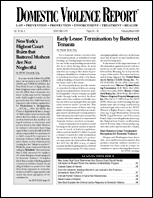 < previous article |next article > |return to table of contents
Abstract:
A summary of important appellate rulings from around the country focused on the terms of orders of protection arising from incidents of stalking. In Kansas, the state Court of Appeals ruled that violation of a protective order was not a "lesser included crime to a crime of stalking and affirmed convictions on both counts; and in Georgia, a former spouse was successfully prosecuted for stalking his ex-wife, and the Georgia court of appeals upheld a challenge to the conviction.
Keywords: State v. Sinzogan; Polanco v. State Georgia

Affiliations: 1: Contributing Editor.