Complete Issue
Author: D.Kelly Weisberg.
Source: Volume 22, Number 06, August/September 2017 , pp.89-112(24)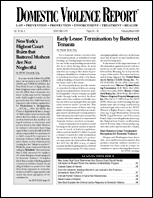 < previous article |return to table of contents
Abstract:
This issue of DVR is the second of two issues to focus on the serious, often violent, crime of stalking. This issue contains six articles to assist service providers and legal professionals with ways of combatting stalking,understanding technology used to stalk, and supporting victims. Jamie McCall and Shawn Weede illustrate the seriousness of stalking by providing an account of the new crime of cyberstalking resulting in death. TK Logan highlights a tool for stalking assessment that can help service providers identify stalking and tailor safety approaches to victims. Christina Gagnier compares state and federal digital abuse laws. Pam Paziotopoulos explores the impact of stalking on the workplace. David Adams explains how batterers'intervention programs can use assessment tools to identify perpetrators. Finally, Elizabeth Dank explores how communities can build collaborative initiatives to combat stalking. Special Guest Editors are TK Logan and Elaina Roberts. TK Logan, Ph.D. is Professor, Department of Behavioral Science, College of Medicine, and the Center on Drug and Alcohol Research at the University of Kentucky. Her research and writing focus on stalking, protective order effectiveness, sexual assault, intimate partner homicide, and health disparities of rural women with partner violence experiences. Dr. Logan is an author on over 140 research articles and serves on the editorial board of two international journals. Dr. Logan is currently the principal investigator on five different projects that evaluate a variety of substance abuse treatment programs. Elaina Roberts, J.D., is Legal Director of the Stalking Resource Center. She provides training and technical assistance to criminal justice and allied professionals on the crime of stalking across the U.S. She is a former prosecutor from Albuquerque, NM.
Keywords: Stalking

Affiliations: 1: Editor, Domestic Violence Report.