Stalking Infiltrating the Workplace
Author: Pam Paziotopoulos.
Source: Volume 22, Number 06, August/September 2017 , pp.99-102(4)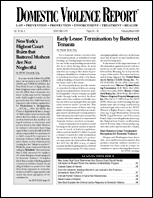 < previous article |next article > |return to table of contents
Abstract:
Corporate America loses $5 billion annually in lost productivity and absenteeism while realizing increased healthcare and security costs due to domestic violence erupting in the workplace. On-site security directors cite domestic violence as their number one concern. Courts and lawmakers have begun to hold employers increasingly accountable for workplace violence. This article examines several important and tragic cases of workplace violence that led to tougher prevention and enforcement practices in Chicago and elsewhere nationally, and examines the methods and strategies now being developed to identify and combat stalking in the workplace.
Keywords: Stalking in the workplace

Affiliations: 1: Center for Domestic Violence Policy.