Board of Immigration Appeals Sets Dangerous Precedent as Battered Woman Is Denied Asylum
Author: Staff Editors.
Source: Volume 05, Number 03, February/March 2000 , pp.36-37 (2)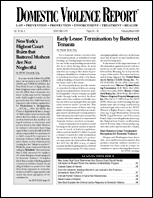 < previous article |next article > |return to table of contents
Abstract:
The question before the Board of Immigration Appeals was whether the petitioner/respondent, R.A., qualified as a "refugee" as a result of "the heinous abuse she suffered and still fears from her husband in Guatemala." R.A., a citizen of Guatemala, described abuse at the hands of her husband "from the moment [they] were married" until she fled to the United States for her safety ten years later. In 1996, she was granted asylum by an Immigration Judge (I.J.) who concluded that the harm suffered by R.A. rose to the level of "past persecution" and that the Guatemalan government was either unwilling or unable to control her husband. The I.J. ruled under U.S. Immigration policy that R.A was persecuted because of her social group membership and political opinions attributed to her by her abuser. The Immigration and Naturalization Service (INS) appealed and the Board of Immigration Appeals (B.I.A.) reversed in a ten to five decision denying the grant of asylum. In re R-A-, B.I.A. Interim Decision 3403, 1999 WL 424364 (B.I.A. 1999) is discussed here.
Keywords: "particular social group"

Affiliations: .