Why Individual Therapy is Not Appropriate for Batterers
Author: Gus B. Kaufman, Jr., Ph.D..
Source: Volume 05, Number 03, February/March 2000 , pp.35-36(2)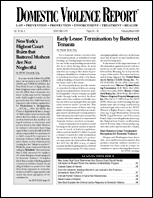 < previous article |next article > |return to table of contents
Abstract:
Many people, especially therapists, have criticized the policy of Men Stopping Violence (MSV) of expecting men to forego individual therapy while in the six-month primary batterer intervention class. They have called such policy puzzling, non-therapeutic, and even punitive. These critics may have come to understand that couples therapy (and mediation) are not safe interventions after a man has abused a woman, but they do not see why he should not be allowed individual therapy while in batterer treatment class. This article defends the policy.
Keywords: battering not a private matter

Affiliations: 1: consultant and activist.