Debate Continues on Constitutionality of Firearms Ban for Domestic Abusers
Author: Anne L. Perry, Esq..
Source: Volume 05, Number 03, February/March 2000 , pp.37-39(3)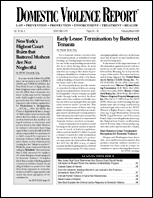 < previous article |next article > |return to table of contents
Abstract:
Domestic Violence Report has been tracking federal court analysis of Gun Control Act amendments that prohibit domestic violence misdemeanants and persons subject to family violence protective orders from possession of firearms affecting interstate commerce. Two district court cases have raised new challenges to these gun control provisions.
Keywords: U.S. v. Emerson, 46 F. Supp. 2d 598 (N.D. Tex. 1999); U.S. v. Ficke, 58 F. Supp. 2d 1071 (D. Neb. 1999); U.S. v. Meade, 175 F.3d 215 (1st Cir. 1999); U.S. v. Lewitzke, 176 F.3d 1022 (7th Cir. 1999); US v. Henson; US v. Boyd

Affiliations: 1: Associate Editor of DVR.