Some Problems Still Faced by Battered Immigrant Women
Author: Nancy K. D. Lemon .
Source: Volume 05, Number 06, August/September 2000 , pp.81-84(4)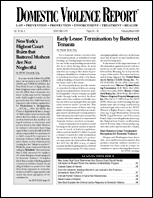 < previous article |next article > |return to table of contents
Abstract:
Four recent publications call attention to the plight of battered immigrant women in the U.S. This column reviews, "Access to Public Benefits for Battered Immigrant Women and Children", by Leslye E. Orloff; "No Relief for the Weary: VAWA Relief Denied for Battered Immigrants Lost in the Intersections", by Cecilia M. Espenoza; "Working With Battered Immigrant Women: A Guidebook for Prosecutors", by Susan M. Breall and Deborah A. Adler; and "Barriers to Protection at Home and Abroad: Mexican Victims of Domestic Violence and the Violence Against Women Act", by Lee Teran.
Keywords: recent federal reforms in immigration backfiring

Affiliations: 1: Associate Editor of DVR.