U.S. Supreme Court Strikes Down VAWA Civil Rights Remedy: U.S. v. Morrison
Author: Risa Kaufman .; Julie Goldscheid .
Source: Volume 05, Number 06, August/September 2000 , pp.81-84(4)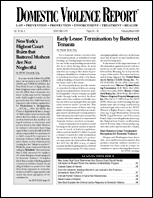 next article > |return to table of contents
Abstract:
Under the guise of protecting federalism, on May 15, 2000, the Supreme Court in United States v. Morrison, 2000 U.S. LEXIS 3422 (May 15, 2000), invalidated the Civil Rights Remedy of the Violence Against Women Act, 42 U.S.C. § 13981. In the now-familiar 5-4 split, the Court held that Congress lacked constitutional authority to enact the law under both the Commerce Clause and Section 5 of the 14th Amendment.
Keywords: Christy Brzonkala; Antonio Morrison; James Crawford; United States v. Lopez

Affiliations: 1: NOW LDEF; 2: NOW LDEF.