From the Bookshelf
Author: Nancy K. D. Lemon, Esq..; Joan Zorza.
Source: Volume 07, Number 02, December/January 2002 , pp.23-24(2)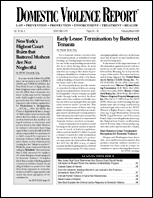 < previous article |next article > |return to table of contents
Abstract:
This column reviews the following: "Child Witnesses of Domestic Violence: How Should the Judges Apply the Best Interests of the Child Standard in Custody and Visitation Cases Involving Domestic Violence?", by Amy B. Levin; "Tarasoff and Beyond: Legal and Clinical Considerations in the Treatment of Life-Endangering Patients, 3rd Ed.", by Leon VandeCreek and Samuel Knapp; "Animal Abuse and Youth Violence", by Frank R. Ascione.
Keywords: Tarasoff v. Regents of the University of California

Affiliations: 1: Associate Editor of DVR; 2: Editor, Domestic Violence Report.