Health Watch
Author: Joan Zorza .
Source: Volume 07, Number 02, December/January 2002 , pp.25-26(2)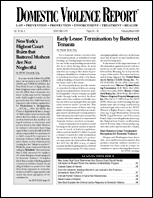 < previous article |next article > |return to table of contents
Abstract:
The Institute of Medicine had the misfortune to release their long awaited report, "Confronting Chronic Neglect: The Education and Training of Health Professions on Family Violence" (edited by Felicia Cohn, Marla E. Salmon & John D. Stobo, National Academy Press, 2001) on the morning of Sept. 11, 2001. The author of this article, a discussion of the report, was as a result one of the few people present at the press conference.
Keywords: The Committee on the Training Needs of Health Professionals to Respond to Family Violence; no indication that mandatory reporting helps

Affiliations: 1: Editor, Domestic Violence Report.