Application of the Uniform Child Custody Jurisdiction and Enforcement Act (UCCJEA) in Recent Domestic Violence Cases
Author: Staff Editors.
Source: Volume 09, Number 01, October/November 2003 , pp.5-7(3)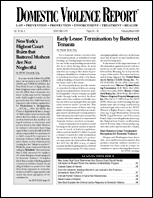 < previous article |next article > |return to table of contents
Abstract:
The Uniform Child Custody Jurisdiction and Enforcement Act (UCCJEA) establishes uniform criteria for jurisdiction in interstate custody cases to avoid competition and promote cooperation between states. Under the UCCJEA, the "home state" of the child, where the child lived with a parent for at least six months immediately before the commencement of custody proceedings, will continue to have exclusive jurisdiction unless that state's court declines to exercise jurisdiction. The UCCJEA authorizes temporary emergency jurisdiction in urgent circumstances, such as when a parent and child flee their home state due to threats of mistreatment or abuse. Where a court is made aware that another jurisdiction is subsequently or simultaneously asked to adjudicate the same custodial issues, that court shall immediately communicate with the court of the other state to resolve the potential jurisdictional conflict. This column covers recent germane cases.
Keywords: Stoneman v. Drollinger; McNabb ex rel. Foshee v. McNabb; Another State's Exercise of Emergency Jurisdiction Does Not Automatically Divest Home State of Jurisdiction; In re Marriage of Vanlaarhoven, 55 P.3d 942 (Mont. 2002)

Affiliations: .