Law Review Articles on Evidentiary Issues, Part II
Author: Nancy Lemon.
Source: Volume 09, Number 01, October/November 2003 , pp.3-5(3)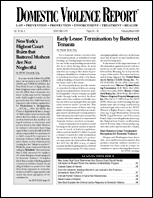 < previous article |next article > |return to table of contents
Abstract:
The following is a continuation from DVR 8-6 of a review of articles on evidentiary issues involved in domestic violence cases. The articles take many different points of view, and raise practical points and policy concerns for attorneys, judges, and legislators.
Keywords: "Weiand v. State and Battered Spouse Syndrome: The Toothless Tigress Can Now Roar", by Douglas A. Orr, 2 Fla. Coastal L. J. 125 (2000); State v. Bobbitt; "A License to Kill Your Spouse: A Critical Look at the Admissibility of Prior Acts Eviden

Affiliations: 1: Associate Editor of DVR.