Do Mandated Batterer Intervention Programs Work? The Critical Need for Experimental Research to Test Their Effectiveness
Author: Lynette Feder, Ph.D..; Anthony Petrosino, Ph.D..; Sabrina Austin.
Source: Volume 09, Number 01, October/November 2003 , pp.1-5 (5)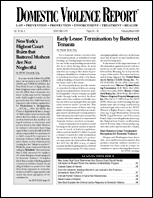 < previous article |next article > |return to table of contents
Abstract:
DVR reported on the research of Lynette Feder and Laura Dugan in "New Research: Broward County Experiment Shown No Benefit from Batterer Intervention Programs," 8 DVR 23 (Dec./Jan. 2003). Dr. Edward Gondolf, "Questioning the Broward Experiment," 9 DVR 49 (Apr./May 2003) questioned the design and implementation of the Broward Experiment as well as the researchers' interpretation of its findings. Some of what Dr. Gondolf noted are in fact true limitations of the study. Since some of his comments are based upon a misunderstanding of the Broward Experiment and some derive from a difference in opinion as to what constitutes rigorous and convincing evidence upon which to make policy decisions, the authors respond.
Keywords: four of five experiments show batterer intervention programs ineffective

Affiliations: 1: Portland State University; 2: Campbell Collaboration's Crime and Justice Group.