Study Reaffirms the Deterrent Effect of Arrest in Domestic Violence Cases
Author: Staff Editors.
Source: Volume 09, Number 01, October/November 2003 , pp.9-10(2)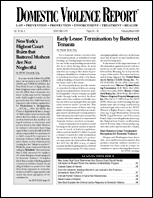 < previous article |next article > |return to table of contents
Abstract:
This column reviews "The Preventive Effects of Arrest on Intimate Partner Violence: Research, Policy, and Theory", Christopher D. Maxwell, Joel H. Garner, and Jeffrey A. Fagan, 2(1) Criminology and Public Policy 51 (2002).
Keywords: Minnesota Domestic Violence Experiment

Affiliations: .