To Be or Not To Be! For Whom Do Mandated Batterer Intervention Programs Work
Author: Lee H. Bowker, PhD.
Source: Volume 09, Number 04, April/May 2004 , pp.49-52(4)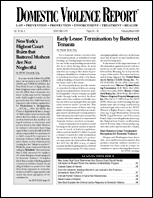 < previous article |next article > |return to table of contents
Abstract:
The October/November 2003 issue of Domestic Violence Report contains a brilliant rebuttal by Feder et al. to Gondolfs criticism of the Broward Experiment, along with a report of a study by Maxwell et al. Feder et al. showed that community treatment didn\'t work for batterers, while Maxwell et al. showed that arrest in domestic violence cases did work best (slightly) in producing a deterrent effect These two publications demonstrate the confusion and controversy that besets us today in the area of domestic violence. Studies and opinions tumble all over each other, often with diametrically opposite findings and conclusions. How can this be? Are the reasons for this lack of scientific clarity really methodological, as Gondolf and Feder et al.\'s discussion suggests?
Keywords: domestic violence desistance research; defineable M.O.; ritualized episodes; addiction aspect; synanon-type therapeutic regime

Affiliations: 1: Humboldt State University.