Batterer Intervention Program Outcomes: Broadening the Criteria
Author: David Adams, Ed.D..; Nikki Galibois, Ph.D..
Source: Volume 09, Number 04, April/May 2004 , pp.49-51(3)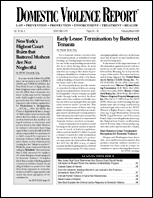 next article > |return to table of contents
Abstract:
Batterer intervention programs continue to experiment with new ways of motivating and teaching their clients, and working with the criminal justice system and other comunity stakeholders to enhance the effectiveness of coordinated community responses. Outcome evaluations should be designed to provide practical information about what batterers learn and don't learn from batterer intervention programs as well as the effectiveness of the broader intervention systems of which they are a part.
Keywords: Broward County batterer intervention outcome study; individual level behavior change; community-based batterer accountability

Affiliations: 1: Emerge; 2: Massachusetts Dept of Public Health.