Important Identity Change Precedent Created by New York Courts for Domestic Violence Victims and Their Children
Author: Amy E. Schwartz, Esq..
Source: Volume 09, Number 05, June/July 2004 , pp.65-68(4)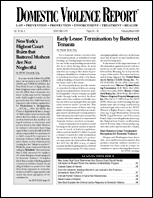 < previous article |next article > |return to table of contents
Abstract:
This article focuses on recent decisions interpreting New York's name change laws as they relate to domestic violence. While this article is state specific in its analysis, the issues raised and the problems created by New York's statutory language are not unique to this state. In this article, the specifics of the law and their implications are discussed. This article also contains a boxed Editors Note: Suggestions for Dealing With Less Helpful Judges in Name Change Proceedings.
Keywords: unpublished and sealed judicial name changes; In Re LV & as M/N/G of J.S. for Leave to Change Names to L.S. and C.S., 768 N.Y.S. 2d 304; New York Courts Address Waiver of Notice to Battering Parent in Proceeding to Change Name of Children

Affiliations: 1: Greater Upstate Law Project .