Response to Bowker's "The Dimensions of Battering: New Understandings"
Author: Linda S. Barnard, Ph.D., MFT.
Source: Volume 09, Number 05, June/July 2004 , pp.65-66(2)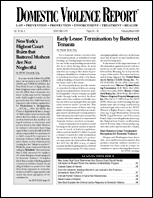 next article > |return to table of contents
Abstract:
The December/January 2004 edition of Domestic Violence Reports included Dr. Bowker's article describing his method for determining who the "real" battered women are in cases where there is "battered woman counter-violence" and the woman kills her abuser. This first-person rebuttal states that: At the same time that I recognize Dr. Bowker's contributions to our field, which are many, I take great exception to this attempt to quantify battered women's experiences. Obviously, our lives as domestic violence experts would be easier if we could accurately measure the battered woman's experience. But there is simply no way to quantify these experiences by measuring each individual component of battered women's experiences.
Keywords: more than five dimensions of domestic violence; Power and Control Wheel; progression of battering too simplistic; No Standardized Method of Scoring

Affiliations: 1: Marriage Family Therapist.