From the Literature: Hastings Women's Law Journal in San Francisco, Symposium Issue (Part I)
Author: Nancy K. D. Lemon, Esq..
Source: Volume 09, Number 05, June/July 2004 , pp.67-68(2)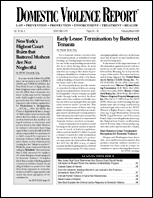 < previous article |next article > |return to table of contents
Abstract:
Many law schools are now holding symposia in which domestic violence issues are addressed. In the next two issues of DVR are reviewed the winter 2003 Symposium issue published by the Hastings Women's Law Journal in San Francisco, "Together: Bridging the Gaps in Legal Response to Domestic Violence." This symposium occurred on Feb. 8, 2002; speakers included attorney Richard Ducote, Professors Cheryl Hanna, Lois Weithorn, and the author, as well as local domestic violence survivors and advocates. As Douglas Redden, editor in chief, states in the Foreword, "This issue attempts to shed light on the remaining barriers to combating domestic violence. The articles featured in this issue highlight that many women have been left behind by reform efforts, particularly low-income women and women who face immigration challenges."
Keywords: "The Predicament of the Immigrant Victim Defendant: 'VAWA Diversion' and Other Considerations in Support of Battered Women", by Zelda B. Harris; VAWA Petition Jeopardized; "Reflections on Khawar: Recognizing the Refugee From Family Violence

Affiliations: 1: Associate Editor of DVR.