Breaking the Cycle by Helping Teens
Author: Liza Siebel.
Source: Volume 09, Number 06, August/September 2004 , pp.83-84(2)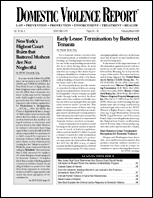 < previous article |next article > |return to table of contents
Abstract:
Although violence is widespread in the teen population, and young people are often particularly vulnerable to abuse in dating relationships, only limited services are specifically intended for adolescents. This is a first-person account of one organization providing that service.
Keywords: Highest Rates of Intimate Partner Violence Are Among the Young; programs of Break the Cycle; peer leadership

Affiliations: 1: Break the Cycle.