U.S. Supreme Court Makes It Harder to Prosecute Without Victim Cooperation
Author: Anne L. Perry, Esq..
Source: Volume 09, Number 06, August/September 2004 , pp.84-84(1)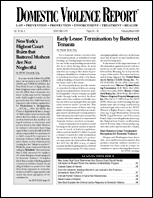 < previous article |next article > |return to table of contents
Abstract:
The United States Supreme Court upheld petitioner Michael Crawford's Sixth Amendment right to confront witnesses against him in determining that his wife's taped statements to police could not be introduced at trial where he did not have the opportunity to cross examine her. This article discusses the case and its implications.
Keywords: Crawford v. Washington, 124 S.Ct. 1354 (U.S. Mar. 9, 2004)

Affiliations: 1: Associate Editor of DVR.