What Is Wrong With Mediation
Author: Joan Zorza, Esq..
Source: Volume 09, Number 06, August/September 2004 , pp.81-84(4)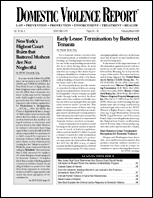 < previous article |next article > |return to table of contents
Abstract:
Some of the beliefs of mediators (and custody evaluators) are based on disproved myths about domestic violence, including that it seldom happens, that it is not severe, that both parties are to blame, and that it generally ends once the parties separate. This column discusses the ramifications of these myths in practice, and discusses the problems with mediation as a solution. A related article, What Is Wrong With Mutual Orders of Protection, appeared at 4 DVR 67 (1997)
Keywords: Lundy Bancroft; "Why Does He Do That?"; mediators screen out 5% of divorce cases; blinded to seeing family violence as a crime; Trina Grillo, "The Mediation Alternative: Process Dangers for Women"; Carrie-Anne Tondo, Inarisa Coronel, & Methan

Affiliations: 1: Editor, Domestic Violence Report.