Custody Cases of Interest
Author: Anne L. Perry, Esq. .
Source: Volume 10, Number 03, February/March 2005 , pp.36-37(2)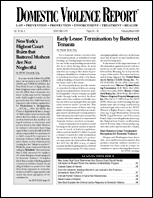 < previous article |next article > |return to table of contents
Abstract:
This article summarizes and discusses recent court cases involving custody issues, including: Marriage of Harris, __ Cal. 4th__, 2004 WL 1872822 (Cal. 2004); In re Driesche, 95 P.3d 262 (Or. Ct. App. 2004); In re Marriage of Suggs, __ P.3d __, 2004 WL 1515992 (Wash. 2004).
Keywords: Award of Visitation to Child's Paternal Grandparents Reversed Where Battered Mother With Sole Custody Objected to Grandparent Visitation; Abusive Stepfather Failed to Rebut Presumption Against Custody Where Mother Objected to His Parenting Time Wit

Affiliations: 1: Associate Editor of DVR.