New York's Highest Court Rules that Battered Mothers Are Not Neglectful
Author: Jill M. Zuccardy, Esq..
Source: Volume 10, Number 03, February/March 2005 , pp.33-35(3)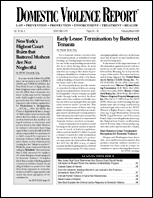 < previous article |next article > |return to table of contents
Abstract:
In a case closely followed by DVR since its inception (see 6 DVR 9 (2000) and 7 DVR 65 (2002)), the New York Court of Appeals, the State's highest court, ruled on October 26, 2004, that a domestic violence victim may not be charged with child neglect solely on the grounds that the child has been exposed to the violence against her. In Nicholson v. Scoppetta,___N.Y.3d___ (Oct. 26, 2004), the Court of Appeals held that a charge of child neglect may be made only where there is a link or causal connection between the mother's alleged actions or inactions and proven harm to the child. Domestic violence advocates have long argued that courts should hold the abuser responsible for any harm to a child caused by exposure to domestic violence, rather than misplace blame on the victim by prosecuting her for "failure to protect". This article discusses the case and its implications.
Keywords: unintended consequences of litigation; no presumption of emotional harm

Affiliations: 1: Sanctuary for Families Center for Battered Women's Legal Services.