New Jersey High Court Determines How Divorce Court Should Handle Admission of Abused Parent Into Address Confidentiality Program
Author: Staff Editors.
Source: Volume 10, Number 03, February/March 2005 , pp.34-34(1)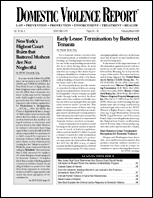 < previous article |next article > |return to table of contents
Abstract:
Walter Sacharow and Cynthia Sacharow were married for six years and had a son together. Mr. Sacharow filed for divorce, and several months later he moved for sanctions against Mrs. Sacharow for interfering with the visitation schedule they had agreed on when they separated. A court-ordered visitation scheduled was arranged which also prevented the parties from harassing each other and granted Mr. Sacharow telephone access to his son. Shortly thereafter, Mrs. Sacharow lost her apartment and she and their son lived with friends and in women's shelters. She refused to give Mr. Sacharow their address or phone number, though she did have a pager. Mrs. Sacharow was held in contempt for violating the visitation schedule and for failing to allow Mr. Sacharow regular phone contact with their son. While the divorce action was pending, Mrs. Sacharow filed for a restraining order against Mr. Sacharow, alleging that he paged her multiple times each day and came to her home uninvited and refused to leave. A temporary restraining order was entered against Mr. Sacharow, but at the hearing, the court found no physical violence or harassment and dismissed the domestic violence complaint. The court directed Mrs. Sacharow to address the matter in the dissolution action. This article discusses the findings, determination, and procedural implications.
Keywords: Sacharow v. Sacharow, 826 A.2d 710 (N.J. 2003); lower court orders release of residential information

Affiliations: .