How the Crawford Decision Is Impacting Criminal Domestic Violence Cases
Author: Anne L. Perry, Esq..
Source: Volume 10, Number 04, April/May 2005 , pp.51-52(2)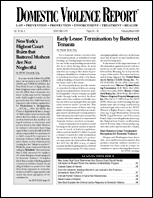 < previous article |next article > |return to table of contents
Abstract:
In its recent ruling in Crawford v. Washington, 541 U.S. 36 (2004), the U.S. Supreme Court adopted a stricter standard for the admissibility of "testimonial" statements in criminal trials. In that case, the Court reversed the conviction of a defendant where the admission of his wife's hearsay statements to police officers regarding his alleged crime violated the Sixth Amendment. The Court concluded that testimonial evidence was inadmissible against a criminal defendant unless the declarant is unavailable and the defendant had a prior opportunity to cross-examine the declarant. State courts are exploring the applicability of Crawford to out-of-court statements, and this evidentiary change will prove particularly thorny in domestic violence cases where the victim often is "unavailable" due to an unwillingness to testify against the abuser. This article covers such recent state cases, including: Evans v. Leubbers, 371 F.3d 438 (8th Cir. 2004); Perkins v. State, __ So.2d __, 2004 WL 923506 (Ala. Ct. Crim. App. 2004); People v. Kilday, 123 Cal. App. 4th 406 (Cal. Ct. App. 2004); and Fowler v. State, 809 N.E.2d 960 (Ind. Ct. App. 2004).
Keywords: EIGHTH CIRCUIT: Victim's Out-of- Court Statements to Ten Witnesses Were Not Testimonial; ALABAMA: Crawford Not Applicable to Autopsy Report, But Double Jeopardy Violated by Convictions on Alternate Counts of Burglary-Murder; CALIFORNIA: Domestic Vi

Affiliations: 1: Associate Editor of DVR.