Symposium on Confronting Domestic Violence and Achieving Gender Equality (Part II)
Author: Nancy K. D. Lemon, Esq..
Source: Volume 10, Number 04, April/May 2005 , pp.54-56(3)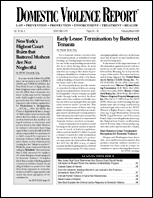 < previous article |next article > |return to table of contents
Abstract:
This is the second of a multiple-part series on a 700 page symposium on domestic violence in the 2003 journal from Washington College of Law at American University. 11(2) American University Journal of Gender, Social Policy & the Law 237-973 (2003). The symposium, "Confronting Domestic Violence and Achieving Gender Equality", was held April 19-20, 2002 in the District of Columbia. It sought to evaluate the many issues raised in a book by Professor Elizabeth Schneider, a member of DVR's Board of Advisors, entitled Battered Women and Feminist Lawmaking (2000). Covered in this issue are: "Battering Through the Lens of Class", by Jody Raphael; "Doubly Victimized: Housing Discrimination Against Victims of Domestic Violence", by Lenora M. Lapidus; "On Culture, Difference, and Domestic Violence", by Leti Volpp; "Ginger Rogers Dancing Backwards in Red High Heels–Feminist Lawmaking and Domestic Violence", by Bette Garlow; "Advancing Equality in Domestic Violence Law Reform", by Julie Goldscheid; "Wading Into Professor Schneider's 'Murky Middle Ground' Between Acceptance and Rejection of Criminal Justice Responses to Domestic Violence", by Holly Maguigan; "Domestic Violence and the Maryland Family Violence Option", by Karen Syma Czapanskiy.
Keywords: Oregon case in which a battered woman was evicted; The Impact of Domestic Violence on Your Legal Practice; Liz Schneider's books

Affiliations: 1: Associate Editor of DVR.