A Mixed and Dangerous Tool for Judges on Custody Evaluations
Author: Joan Zorza, Esq..
Source: Volume 10, Number 04, April/May 2005 , pp.49-55(7)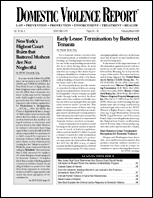 < previous article |next article > |return to table of contents
Abstract:
By far the most troublesome custody cases are those involving domestic violence (DV), particularly when there are allegations that the father sexually abused one of the children. DVR is reviewing a new tool recently issued for judges on these issues which is designed to help courts utilize custody evaluations. We wish we could overwhelmingly support the tool, which has some exemplary aspects, but the tool also has some highly dangerous aspects that can be used against battered women and children who are victims of child sexual abuse (CSA), particularly when molested by their fathers. This article is based on a speech delivered on Jan. 8, 2005 at the Second Annual Battered Mothers Custody Conference, Siena College, Loudonville, NY and also appeared in the March/April 2005 issue of Sexual Assault Report. This article is reprinted with the permission from CRI's SAR, Vol. 8, No. 4 (Mar./Apr. 2005.).
Keywords: Navigating Custody & Visitation Evaluations in Cases with Domestic Violence: A Judge's Guide; batterer characteristics; Fails to Debunk the Family Dynamic Approach; NCJFCJ; National Council of Juvenile and Family Court Judges

Affiliations: 1: Editor, Domestic Violence Report.