Symposium Issue on Confronting Domestic Violence and Achieving Gender Equality (Part III)
Author: Nancy K. D. Lemon, Esq..
Source: Volume 10, Number 05, June/July 2005 , pp.67-69(3)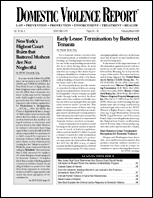 < previous article |next article > |return to table of contents
Abstract:
This is the third of a five-part series on a 700 page symposium on domestic violence (with 29 articles)in the 2003 journal from Washington College of Law at American University. 11(2) American University Journal of Gender, Social Policy & the Law 237-973 (2003). (Part one and two were covered in DVR 10-2 and 10-4, respectively.) The symposium, "Confronting Domestic Violence and Achieving Gender Equality", was held April 19-20, 2002 in the District of Columbia. It sought to evaluate the many issues raised in a book by Professor Elizabeth Schneider, a member of DVR's Board of Advisors, entitled Battered Women and Feminist Lawmaking (2000). This issue discusses the following sessions: "Transforming Aggressive Prosecution Policies: Prioritizing Victims' Long-Term Safety in the Prosecution Of Domestic Violence Cases", by Deborah Epstein, Margaret E. Bell and Lisa A. Goodman; "Engaging With the State: The Growing Reliance on Lawyers and Judges to Protect Battered Women", by Jane C. Murphy; "The "Pitiless Double Abuse" of Battered Mothers", by Justine A. Dunlap; "Why Do You Do the Things You Do? Clemency for Battered Incarcerated Women, A Decade's Review", by Linda L. Ammons; "Fact-Finding in Civil Domestic Violence Cases: Secondary Traumatic Stress and the Need for Compassionate Victims", by Ann E. Freedman; "Domestic Violence, Child Custody, and Child Protection: Understanding Judicial Resistance and Imagining the Solutions", by Joan S. Meier.
Keywords: prosecutors focus on offenders; Nicholson v. Williams; compassionate witnessing; Greenbook project

Affiliations: 1: Associate Editor of DVR.