Cases From Around the Country
Author: Staff Editors.
Source: Volume 10, Number 05, June/July 2005 , pp.65-67(3)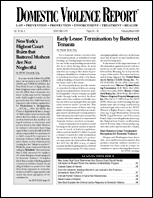 < previous article |next article > |return to table of contents
Abstract:
This column summarizes recent court actions of interest to readers of DVR, including: Chen v. Fischer, 783 N.Y.S.2d 394 (N.Y., App. Div. 2004); Commonwealth v. Cooper, 2004 WL 1876416 (Va. Ct. App. 2004).
Keywords: CALIFORNIA: Sentencing Error Found Following Supreme Court Opinion in Blakely v. Washington; NEW YORK: Tort Action for Physical and Emotional Abuse Barred After Parties' Divorce Judgment; VIRGINIA: Spectators at Trial Wearing Photographs of Victim

Affiliations: .