Two Important Restraining Order Cases
Author: Anne L. Perry, Esq..
Source: Volume 10, Number 05, June/July 2005 , pp.65-66(2)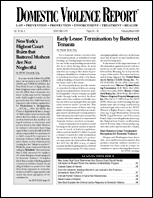 < previous article |next article > |return to table of contents
Abstract:
This column discusses two recent court cases centered about restraining orders. In Massachusetts, the Court of Appeals ruled that a husband cannot vacate wife's abuse prevention order against him without extraordinary circumstances. In New Jersey, the state Supreme Court ruled that a husband subject to restraining order could be prohibited from residing in a home near former wife.
Keywords: Mitchell v. Mitchell, 821 N.E.2d 79; Zappaunbulso v. Zappaunbulso, 842 A.2d 300

Affiliations: 1: Associate Editor of DVR.