VAWA 2005: Bringing Change to the Next Generation
Author: Juley Fulcher.; Victoria Sadle.
Source: Volume 10, Number 06, August/September 2005 , pp.81-82(2)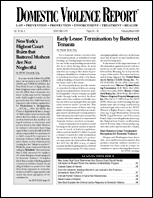 < previous article |next article > |return to table of contents
Abstract:
The Violence Against Women Act of 1994 (VAWA) was a momentous step forward for our nation. This Article contemplates some ideas for strengthening and expanding protections afforded by VAWA under reauthorization, including expanded access to services for youth.
Keywords: VAWA Reauthorization; sexual assault; youth and teen services; sexual assault; campus grants

Affiliations: 1: Break the Cycle ; 2: Catholic University of America.