Cases Involving Burglary or Vandalism of Spouse's Property
Author: Anne L. Perry, Esq..
Source: Volume 10, Number 06, August/September 2005 , pp.83-84(2)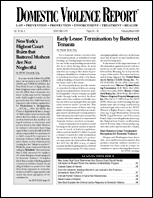 < previous article |next article > |return to table of contents
Abstract:
Victoria L. Lutz and William R. Slye's article, "Where Criminal Mischief Is Not a Crime," 3 DVR 17 (Dec. /Jan. 1998) is about the very distressing New York Second Appellate Department's case of People v. Person, 658 N.Y.S.2d 372 (2d Dep't 1997), in which the appellate court reversed a criminal defendant's conviction for damaging his wife's personal property because he "had an equitable interest in the items he was charged with damaging," items which other states and appellate courts in New York consider to be the wife's personal property. That article mentioned that orders of protection can be issued in nine states as a result of malicious property damage, and that California, Illinois, Iowa and Washington State have upheld criminal mischief charges involving a spouse's destruction of commonly owned property. This article presents further examples of state appellate courts recognizing that burglary or vandalism of a spouse's home or property in that home is a crime.
Keywords: People v. Wallace, 123 Cal. App. 4th 144 (Cal. Ct. App. 2004); Jackson v. U.S., 819 A.2d 963 (D.C. 2003); State v. Hagedorn, 679 N.W.2d 666 (Iowa 2004)

Affiliations: 1: Associate Editor of DVR.