Testimony Affidavit in the Immigration Case of Rodi Alvarado
Author: Nancy K. D. Lemon, Esq..
Source: Volume 10, Number 06, August/September 2005 , pp.81-87(7)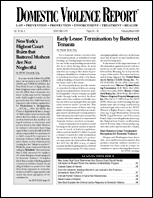 next article > |return to table of contents
Abstract:
Being female is the strongest risk factor for whether an individual will be a victim of partner violence; 5% to 10% of women use non-defensive violence. This article is a personal affidavit as a sample for the information of those interested in testifying in a case involving a battered woman.
Keywords: gender and domestic violence; cross-cultural studies; male power and control; Duluth Wheel

Affiliations: 1: Associate Editor of DVR.