The Empowerment Method Does Not Empower All: The Dangers of Not Recognizing the Cultural Differences of Latino Immigrant Domestic Violence Victims
Author: Carlos Guerrero.
Source: Volume 11, Number 01, October/November 2005 , pp.5-6(2)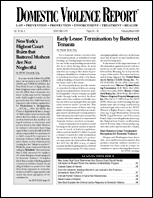 < previous article |next article > |return to table of contents
Abstract:
When a domestic abuse victim makes the courageous decision to leave her abuser she finds not only legal aid but also various resources such as support groups, medical assistance, job placement, and even relocation services that make reclaiming control of her life easier. Although using all of the resources available is ideal in preventing a return to the abusive relationship, the current empowerment method of assisting victims allows the victim to decide what services are best for her without forcing these decisions upon her. While facing all these options can be overwhelming, it can be more confusing for Latino victims, particularly undocumented immigrants who lack the language and/or understanding of their legal rights. This article discusses why the failure to recognize and address the cultural differences between the Latino immigrant population and the native born American population can result not only in inadequately assisting the victim, but also in a greater chance of the victim returning to the abuser.
Keywords: conflict with Latino culture; ensuring Latino immigrants that their immigration status is irrelevant

Affiliations: 1: Break the Cycle.