Do State Restraining Order Laws Protect Youth?
Author: Liza Siebel .; Vicky Lin.
Source: Volume 11, Number 01, October/November 2005 , pp.6-7 (2)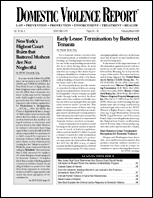 < previous article |next article > |return to table of contents
Abstract:
The United States Justice Department reports that women and girls between the ages of 16 and 24 are the most vulnerable to non-fatal intimate domestic violence. While the national per capita rate of intimate partner violence against women is 6 per 1,000, it is more than two-and- a-half times that for women ages 16 to 24. Other studies reveal that as many as one in three teens experience abuse in their relationships. Despite the statistics, many states' civil domestic violence restraining or protective order laws fail to provide full access for the groups that are most vulnerable to domestic violence. Can Minors Obtain Restraining or Protective Orders?
Keywords: four states do not provide restraining or protective orders to victims who live with their abuse; legislative action needed

Affiliations: 1: Break the Cycle; 2: Break the Cycle.