Psychological Abuse Better Predicts PTSD Than Physical Abuse, Particularly Denigration, Restrictive Engulfment, and Dominance/Intimidation
Author: Casey T. Taft.; Christopher M. Murphy.; Lynda A. King.; Judith M. Dedeyn.; Peter H. Musser.
Source: Volume 11, Number 01, October/November 2005 , pp.3-6(4)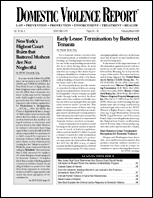 < previous article |next article > |return to table of contents
Abstract:
This article recaps research on PTSD symptoms in abused women, including predictors of symptom exacerbation over time. Recent studies indicate that psychological abuse may play an important role in the development and/or maintenance of PTSD symptoms in physically abused women.
Keywords: implications for application; implications for public policy

Affiliations: 1: Boston University School of Medicine; 2: University of Maryland; 3: Boston University.