Things We Still Can Do After the Castle Rock v. Gonzales Decision
Author: Joan Zorza, Esq..
Source: Volume 11, Number 01, October/November 2005 , pp.1-2(2)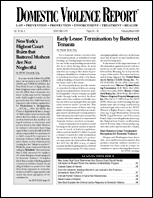 < previous article |next article > |return to table of contents
Abstract:
While the Castle Rock v.Gonzales decision is extremely disappointing, as the lead article by Emily Martin and Carrie Bettinger-Lopez points out, even the U.S. Supreme Court noted that victims can still enforce orders in state courts using civil or criminal contempt remedies, and that other theories are often available under state tort law. Criminal contempt cases and other criminal actions are possible, depending on the state's law, and civil contempts can always be filed by the victim.
Keywords: jury instructions for lawyers defending victims

Affiliations: 1: Editor, Domestic Violence Report.