Specialty and Problem-Solving Courts
Author: Joan Zorza, Esq..
Source: Volume 11, Number 03, February/March 2006 , pp.33-35(3)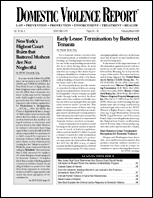 < previous article |next article > |return to table of contents
Abstract:
This column reviews "Unbundling Your Divorce: How to Find a Lawyer to Help You Help Yourself", by M. Sue Talia, and briefly discusses the article "ADA County Family Violence Court: Shaping the Means to Better the Result", by Judge Lowell D. Castleton, Bruce J. Castleton, Melissa M. Bonney and Amber M. Moe.
Keywords: Casey Gwinn, "Dreaming Big: Creating Family Justice Centers Across America,"

Affiliations: 1: Editor, Domestic Violence Report.