The Illusion of Protection Uncovered: Review of the Special Journal Issue on Child Custody and Domestic Violence
Author: Renee Beeker.
Source: Volume 11, Number 03, February/March 2006 , pp.35-37(3)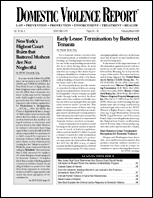 < previous article |next article > |return to table of contents
Abstract:
The August, 2005 special issue of the journal Violence Against Women (Vol.11, No. 8) on child custody and domestic violence reports the findings of four studies involving nine states (California, Delaware, Florida, Kentucky, Massachusetts, Minnesota, New York, Rhode Island, and Washington) funded by the National Institute of Justice. This research helps validate what many advocates and activists of custody issues for mothers have known for years, and what the gender bias studies from the past 30 years showed, namely, that the courts are failing to protect women and their children when abuse is a factor in custody or visitation disputes. This column discusses issues raised by articles in that issue, specifying the areas of failure.
Keywords: Women Gain No Tactical Advantage From Abuse Allegations; Evidentiary Rules and Practices Provide Hurdles for Abused Women; Mediation Places Women at Greater Danger

Affiliations: 1: National Family Court Watch Project.