New Book on Domestic Violence of Women From Marginalized Groups
Author: Diane Purvin, Ph.D..
Source: Volume 11, Number 03, February/March 2006 , pp.33-35(3)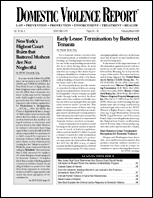 next article > |return to table of contents
Abstract:
"Domestic Violence at the Margins: Readings on Race, Class, Gender, and Culture" , edited by Natalie Sokoloff with Christine Pratt, is an informative, comprehensive anthology of articles and essays addressing the intersection of structural, cultural, communal, and personal forces in the lives of battered women.
Keywords: Success at expense of women from marginalized groups

Affiliations: 1: Wellesley Centers for Women.