Symposium—Domestic Violence & the Law: Theory, Policy, and Practice, Part I
Author: Nancy K. D. Lemon, Esq..
Source: Volume 11, Number 04, April/May 2007 , pp.55-57(3)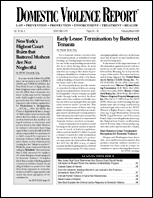 < previous article |next article > |return to table of contents
Abstract:
A symposium that featured eight widely recognized experts on domestic violence legal issues was held on October 3, 2003 at the St. Louis University School of Law and was reported in 23 St. Louis U. Pub. L. Rev. 1-365 (2004). A summary of the symposium is provided in a two part series, with part one provided here and part two to follow in the next issue of DVR.
Keywords: "Law Is the Answer? Do We Know That for Sure?: Questioning the Efficacy of Legal Interventions for Battered Women", by Leigh Goodmark; "A Man's Home Is His Castle: How the Law Shelters Domestic Violence and Sexual Harassment", by Beverly B

Affiliations: 1: Associate Editor of DVR.