The Role of Domestic Violence Victim Advocates in Our Legal System
Author: Michael R. Smalz, Esq..
Source: Volume 11, Number 04, April/May 2007 , pp.51-54(4)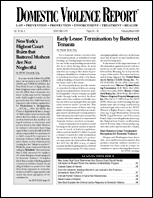 < previous article |next article > |return to table of contents
Abstract:
This article discusses the role and permissible scope of conduct by non-attorney victim advocates in Ohio, and in particular the role and permissible activities of victim advocates affiliated with domestic violence shelters and other domestic violence service providers. It includes a chart: Non-Lawyer Victim Advocates' Roles and Activities—Can Do and Cannot Do Chart.
Keywords: uncertain status of victim advocates

Affiliations: .