VAWA 2005– Summary of the Immigration Provisions
Author: Joanne Lin, Esq..; Leslye Orloff, Esq..; Heather Saeed, Esq..
Source: Volume 11, Number 04, April/May 2007 , pp.49-53(5)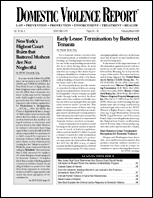 < previous article |next article > |return to table of contents
Abstract:
On January 5, 2006, President George W. Bush signed into law the Violence Against Women Act ("VAWA") reauthorization of 2005 (H.R. 3402). VAWA 2005 built upon the progress of VAWA 1994 and VAWA 2000. VAWA 1994 created immigration protections for many abused immigrants and removed obstacles inadvertently interposed by immigration laws that prevent immigrant victims from safely fleeing domestic violence and prosecuting their abusers. VAWA 2000 extended immigration relief to immigrant victims of sexual assault, human trafficking, and other violent crimes who agree to cooperate in criminal investigations or prosecutions. A key goal of VAWA's immigration protections is to cut off the ability of abusers, traffickers, and perpetrators of sexual assault to blackmail their victims with threats of deportation, and thereby avoid prosecution. VAWA allows immigrant victims to obtain immigration relief without their abusers' cooperation or knowledge. Congress understood that in order to stop domestic violence, all victims need protection and assistance without regard to their immigration status.
Keywords: VAWA 2005 Extends Immigration Relief to a Larger Group of Family Violence Victims; Haitian Refugee Immigration Fairness Act; HRIFA

Affiliations: 1: Legal Momentum; 2: Legal Momentum; 3: Washington College of Law.