The International Marriage Broker Regulation Act: Preventing the Abuse and Exploitation of Foreign Women
Author: Heidi Boas.
Source: Volume 11, Number 04, April/May 2007 , pp.57-58(2)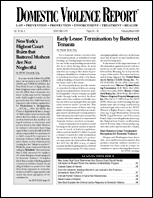 < previous article |next article > |return to table of contents
Abstract:
This January, just after celebrating the arrival of the new year, women's rights advocates across the United States celebrated another significant milestone: the reauthorization of the Violence Against Women Act (VAWA 2005). This most recent version of VAWA represents a particular victory for advocates seeking to prevent the abuse of foreign women through international marriage brokers (IMBs), commonly referred to as "mail-order bride agencies." VAWA 2005 introduces a crucial new piece of legislation called the International Marriage Broker Regulation Act (IMBRA) (§§ 831-834), which seeks to ensure that foreign women are informed of any violent criminal or marital history of their prospective American husbands, and are aware of the services available to them in the United States should they become victims of domestic violence.
Keywords: IMB Industry; IMBRA; Fox v. Encounters International

Affiliations: 1: Boalt Hall School of Law.