Protective Order Cases
Author: Anne L. Perry, Esq..
Source: Volume 13, Number 02, December/January 2008 , pp.17-18(2)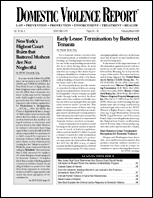 next article > |return to table of contents
Abstract:
This column summarizes and discusses recent court cases involving protective orders, including: State v. Esquivel, 132 P.3d 751 (Wash. Ct. App. 2006); Wiley v. Wiley, 896 A.2d 263 (Me. 2006); and People v. Houar, 850 N.E.2d 327 (Ill. Ct. App. 2006)
Keywords: Washington: Tribal Court Restraining Order Enforceable; Maine: Order of Protection Vacated Where Father's Contact With Minor Daughter Found Consistent With Parental Rights; Illinois: Assertion of Fifth Amendment Privilege Against Self- Incriminatio

Affiliations: 1: Associate Editor of DVR.