Taking a Process-Oriented Approach to Domestic Violence Prosecutions
Author: Jennifer Gentile Long.; Viktoria Kristiansson .
Source: Volume 13, Number 02, December/January 2008 , pp.17-22(6)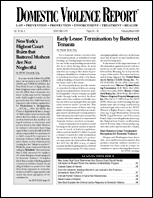 next article > |return to table of contents
Abstract:
All prosecutors are united by the duty to pursue justice. As experienced prosecutors know, pursuing justice means more than obtaining convictions. Prosecutors are responsible for conducting thorough and thoughtful investigations, making accurate charging decisions, aggressively and ethically litigating cases, safeguarding defendants' rights, and advocating for appropriate sentences that hold offenders accountable and keep communities safe. In domestic violence cases, achieving justice includes all of the duties just described as well as identifying and addressing the collateral consequences victims face as a result of domestic violence. Many savvy abusers recognize that the collateral consequences facing domestic violence victims are as strong a deterrent to their victims' cooperation in a prosecution as intimidation or physical force. Left unaddressed, these issues can devastate a victim and her family by leaving them unsupported and financially insecure long after a conviction is secured. A discussion of these issues is supplemented by a box offering sample cross-examination questions.
Keywords: Lethality Factors (Chart); Crawford v. Washington; Davis v. Washington

Affiliations: 1: National Center for the Prosecution of Violence Against Women; 2: National Center for the Prosecution of Violence Against Women.